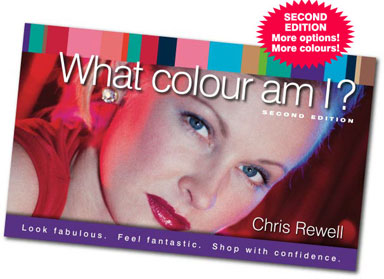 Have you been thinking about having a personal colour analysis done? Want to learn more about your own colour palette? Look no further, you have just discovered the most revealing colour book you can find to begin your journey with colour.

What colour am I? is the world's first interactive colour book. It's graphically displayed in full colour and specifically designed and printed with mirror image text so you can do your own colour analysis in the mirror.
"...I was delighted to be able to read the text in the mirror without having to keep taking the book down to read it - nice touch!"
C Watts, Hassall Grove
Thousands, in fact more than 24,000 people have had a personal colour analysis done with Chris and now you can too ... for just a fraction of the price.

You'll find the secrets of your colours revealed as you begin your personal colour analysis by stepping into her shoes with your copy of What colour am I? You'll compare your skin tones, hair tones and eye tones with each of the test photo galleries. This in turn will reveal your full wardrobe colour range, your blush, lipstick and hair colours and even your most flattering metals for accessories. Click here now to get started on your big reveal!

You'll feel more confident when you know your colours and find you'll save time and money when you shop. Perhaps of more value, thousands of clients have found that knowing their colours removes uncertainty and angst when shopping.
What colour am I? is the book for everyone wanting to know what colours suit them. What colour am I? is the book for everyone advising others on make-up or colour selections. It's the perfect book for teenagers exploring make-up and wondering what really suits them.
"Congratulations it's absolutely wonderful! You must have had your work cut out, ensuring the publisher reproduced the colours so accurately!! I love it!"
H Stewart, North Rockhampton QLD

What colour am I? will show you:

- 5 essential elements you should know about your personal colours.
- 5 must-do steps to ensure that you have a wardrobe that works.
- 3 key issues to enable you to get results with your authentic colour palette.

What colour am I? RRP $49AUD buy now for only $39AUD per copy plus postage and handling of $10AUD for up to 2 books per
package within Australia. Why not share the postage fee with a friend when you both buy a copy of the book! All overseas postage $16AUD per book.

Order your copy here.

"I received your book, it is fabulous, congratulations." A Gehrig, Aberglasslyn NSW


Chris Rewell is recognised as one of Australia's leading Image professionals. She is an expert in her field and a pioneer of the Image industry. Chris has guided and inspired over 24,595 individuals, hundreds of small businesses and multi-national corporations in the art of personal appearance and professional communications over the last 25 years.

She has been nominated twice for the Australian Telstra Business Women's Awards and voted 'The Best in New' Woman's national directory 'Simply the Best' which lists the best of everything in Australia.
Chris has been interviewed on television and radio programs - A Current Affair, Good Morning Australia, TV Shopping Network, ABC, 2UE and quoted in a wide variety of the print media including The Financial Review, The Sunday Telegraph, The Sun-Herald, The Courier Mail, Marie Claire and Mode. She has written for Stitches Magazine and Wellbeing Magazine.

Visit her other website: www.chrisrewell.com.au